Writing + Painting As An Act Of Devotion
San Miguel de Allende
October 5 - 11, 2019
Join writer, Valley Haggard and artist, Linda Laino for a magical and luxurious week long retreat of painting and writing our stories in beautiful San Miguel de Allende, México. Beginnings, endings, cycles and circles create the patterns of our lives.
*Explore written and painted stories in an intimate, supportive group and exquisite setting
*Experience meditation, centering and creativity through the mediums of paint and pen
*Create a connection between written and painted narratives.
Location
San Miguel de Allende, Mexico is a World Heritage UNESCO pueblo magico, not to mention voted one of the best places in the world to live by Conde Nast Traveler 2 years in a row. Click here for a little more information and links of things to do in San Miguel.
Linda has lived in San Miguel for over 6 years and has been able to use her contacts there to insure participants take home some wonderful local flavor along with their written and painted explorations.
Retreat Theme
What do writing and painting have in common? They can both uncover layers to the self. They can both help access the source from where we acquire our energy, self-worth, creativity and spontaneity. This retreat will combine memoir writing and painting using Mexican Ex-Votos for inspiration. Instruction is designed to accommodate beginning painters and writers as well as those that make it their life's work. In honoring the creative and spontaneous spirit, this 6-day retreat will have beautifully balanced days of painting and writing time, but also much needed exploration, observation and meditation.
The Retreat Venue
We are sure you will be delighted with the accommodations and facilities! Casa de la Noche is a former bordello steeped in the history and energy from artists and musicians who passed through there in the 40's and 50's. Today, owner Barbara Poole has been running the boutique hotel as a B&B and top notch event space for 16 years. Being an artist herself, the hotel reflects her creative, eclectic sensibility. The spacious and well-appointed rooms and courtyards create a sense of old world discovery but with all the modern conveniences. It's proximity to centro is a mere few blocks making it a super convenient and easy home base from which to explore San Miguel.
Workshop Descriptions
Writing with the Hand and the Heart
Writing is a process for remembering, healing, dreaming, visioning, and exploring the sacred and the profane within the world and our own lives. During our writing sessions in San Miguel we will use meditation, Reiki, and timed writing to delve into our depths and emerge with stories, poems, and creative interpretations of our own manifestos and prayers. Writing outside of the familiar in an intimate, safe, and sacred setting allows our writing to grow and expand in surprising new ways. Our group writing experience requires no previous writing experience or spiritual affiliation, only an openness to experiment and discover.

Exploring Visual Stories With Ex-Votos
What is an Ex-Voto?
Ex-Voto is Latin meaning "for solemn vow or promise". Sometimes referred to as retablos in Mexico, they are traditionally painted on tin and consist of three basic elements:
A scene depicting a difficult situation or loss of some type

A saint or martyr that intervenes

An inscription describing the event and giving thanks for the divine intervention.
Ex-Votos are one of the most charming examples of Mexican folk-art. Diego Rivera and Frida Kahlo had a large collection of them and they are still made and sold in the markets and antique shops. There is a healing quality to the making of this painting, and therefore carries a component of devotion. How can we use this structure and apply it to our own stories?
There is a built-in narrative to this form of painting that correlates with writing memoir. Removing the overt religious nature, we will explore the form toward contemporary applications. Linda will guide students through color, composition, and content as we learn to connect words and images. Let the color and iconography of Mexico influence your story to create a contemporary ex-voto based on a personal narrative.
Valley and Linda created a perfect week of writing, art, and exploration. The magic of San Miguel de Allende made our time an experience not to be missed!! —KH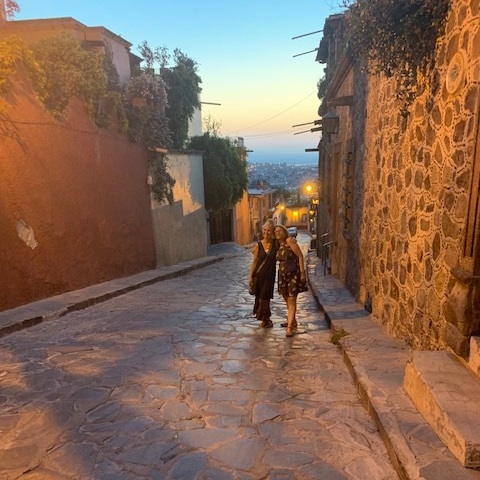 The whole retreat was very well thought out with fun activities and lots of free time to explore San Miguel. It was really an awesome retreat with a lot of wonderful compassionate people. Valley and Linda were wonderful teachers with great reviews of our works. I look forward to attending another one in the future. —
JJ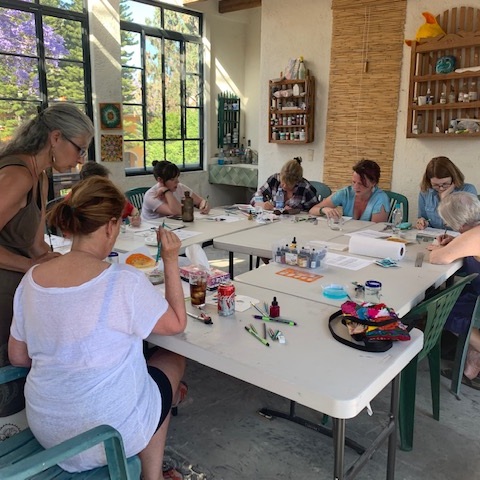 The fullness of the experience exceeded all my expectations. Linda and Valley were unbelievably generous in helping us all tap into our creativity and dig deep. San Miguel is magical, easy to navigate, and welcoming! —LS
WHAT YOU'LL DO AT THE RETREAT
daily Itinerary
8:00 - 9:00: Breakfast at Casa de la Noche
9:30- 12:00: Writing/Painting
12:00 - 4:00: Lunch/Rest/Explore
4:00 - 6:00: Writing/Painting
6:00 - Dinner on your own
schedule of retreat events
October 5
Arrival, welcome gathering with heavy hors d'oeuvres and margaritas.
October 6
Morning writing and afternoon painting workshops. Lunch and dinner on your own.
October 7
Morning painting and afternoon writing workshops. Lunch and dinner on your own.
October 8
Writing at Charco del Ingenio Botanical Gardens in the morning, and afternoon painting.
Lunch and dinner on your own. Meet for drinks at Rosewood rooftop for sunset (not included in retreat price).
October 9
La Gruta Hot Springs in the morning. Lunch at Hot Springs (lunch not included).
Free afternoon for individual consults with Valley and Linda OR take afternoon off to explore or do your own thing.
Linda and Valley will be available in the studio.
October 10
Morning painting, lunch, afternoon writing. Farewell Mexican buffet at Casa de la Noche.
October 11
Breakfast, wrap-up, shuttle.
Note: The above schedule may change slightly depending on weather, needs of the group, or special events in town.
Linda Laino is an artist, writer and teacher who has been making art in one form or another for over 35 years. Holding an MFA from Virginia Commonwealth University, she enjoys playing with words as much as form and color. Since 2012, she has resided in San Miguel de Allende, Mexico where the surreal atmosphere and sensuous colors have wormed their way into her paintings. The last few years have found her making art at residencies around the world, most recently in France and Spain. Finding beautiful things on the ground is a favorite pastime. Her art can be seen at www.lindalaino.com. Some of her essays and poetry can be found on Elephant Journal, The New Engagement, Sheila-Na-Gig Journal, Life In 10 Minutes and her blog, www.wordsandpictures.lindalaino.com
Photos of Linda by Ginger Bandoni

Valley Haggard is a Reiki Master and the author of The Halfway House for Writers (2015) and Surrender Your Weapons: Writing to Heal (2018). She is the co-editor of Nine Lives: A Life in 10 Minutes Anthology and the founder of the Life in 10 Minutes Project, Podcast and Press, all of which are dedicated to helping people from all walks of life write and tell stories from their lives that are brave and true. Valley has been a Waffle House waitress, a dude ranch cabin girl, a cruise ship stewardess, a book reviewer, and a freelance writer. She leads Life in 10 Minutes workshops, living room tours and retreats around Virginia and co-founded a writing center in the heart of Richmond, Virginia. She lives with her hound dog, two cats, one bearded dragon, a husband and a son in the house she grew up in. Visit her at www.lifein10minutes.com to learn more and to submit your own stories,10 minutes at a time.
RETREAT COST
Room Packages + Inclusions
retreat registration prices vary based on accommodation.
Prices range from $2200 - $2800
Eleven hours of group writing workshop

Eleven hours of painting instruction

Optional 30-60 minute private session with Linda and/or Valley TBA

All basic art materials

A copy of Surrender Your Weapons Writing to Heal by Valley Haggard

Small Mandala Giclee Print

Group excursion to La Gruta Hot Springs

Group morning class at El Charco de Ingenio Botanical Gardens
Retreat facility with studio space available 24 hours.

Mexican breakfast daily at Casa de la Noche

Welcome evening with heavy hors d'oeuvres and margaritas

Farewell Mexican Buffet/Margaritas at Casa de la Noche
We can't wait for you to join us in Mexico.
For questions contact: